Abortion Clinic LP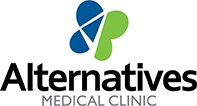 Are you considering abortion?
Get answers.
Not judgment.
At Alternatives Medical Clinic, we understand that life doesn't always turn out the way you thought it would. Our compassionate staff of nurses, sonographers, and client advocates are here to help guide you through your decision.
Why Alternatives Medical Clinic Should Be Your First Choice
Abortion clinics charge for their pregnancy confirmation services and push for services that will be profitable for the clinic. Alternatives Medical Clinic offers a confidential place to confirm if you actually are pregnant with a free and comfortable limited ultrasound exam. We also provide an unhurried setting to get all of your questions answered regarding your pregnancy choices.
Get started by filling out the form below!
Our services are provided to clients without regard to age, race, income, nationality, religious affiliation, disability, or other arbitrary circumstances. In keeping with our non-profit, pro-woman mission, Alternatives Medical Clinic does not provide or refer for abortion services.
Copyright © 2020 All Rights Reserved