Abortion Pill LP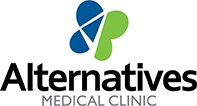 Are you considering an abortion pill and want to learn more?
Ending a pregnancy with an abortion pill is not a simple procedure.
While you can take the medication at home, it forces a miscarriage and can be painful.  It may not even be necessary if the pregnancy is not developing.
Whatever you do, don't buy abortion pills online or try home remedies for abortion as these are not FDA approved and can be dangerous.  Before you spend the money on an abortion pill appointment at an abortion clinic, find out if you actually have a developing pregnancy and are not too far along for an abortion pill procedure. 
At Alternatives Medical Clinic, we offer a confidential place to confirm if you actually are pregnant with a free and comfortable limited ultrasound exam. We also provide an unhurried setting to get all of your questions answered regarding your pregnancy choices.
Get started by filling out the form below!
Our services are provided to clients without regard to age, race, income, nationality, religious affiliation, disability, or other arbitrary circumstances. In keeping with our non-profit, pro-woman mission, Alternatives Medical Clinic does not provide or refer for abortion services.
Copyright © 2020 All Rights Reserved